Technology development
Development of eco-friendly technologies with all our heart
Emission of Greenhouse Gas (GHG) causes global warming, so GHG emissions will have to be counterbalanced: having a balance between emitting carbon and absorbing carbon from the atmosphere. This concept is called "carbon neutral", and it is important to achieve this in the future.
In the field of marine transport, the effort to zero emission is also spreading centering on International Maritime Organization (IMO).
In order to contribute to international society, we develop technologies and ships which can help reducing the load on the global environment.
These developments are important effort to achieve "Emission reduction of CO2","Utilization of CO2",and"Underground Storage of CO2".
Emission reduction of CO2
To reduce emission of CO2, they are important issues that development of eco-friendly ships such as good fuel efficiency and alternative fuel solutions better than existing heavy fuel oils.
Our approaches to engagement with the above is as followings.
① Development of energy saving hull form and devices by simulation technologies
We develop optimized hull form for efficient propulsions and energy saving devices using the numeric simulation technologies. Their energy saving performance can be estimated with numeric models defined by CFD(Computational Fluid Dynamics) readily. A feedback from tank test using actual model make estimation accuracy improved.
Our patented energy saving devices is introduced in followings.
We have developed an epoch-making energy-saving device called "STF"(patent in May, 2006) and "ACE DUCT" (patent in November, 2017).
STF (Sanoyas Tandem Fin) consists of two or three pairs of flat-plate fins: one is attached in front of a propeller and the other on an afterpart shell ahead of it. The "STF" has a remarkable effect for reduction of the ship's resistance and improvement of the propulsion efficiency by controlling bilge vortex occurring in flow around the afterpart body.
ACE DUCT (Sanoyas Advanced flow Controlling and Energy saving DUCT) is set relatively lower than general ducts, and it adjusts the water current of the propeller through the devising of a horizontal strut shape.
This made it possible to lower propeller cavitation risk and accomplish improvement of propulsive efficiency.
By combining an energy-saving device such as "STF" and "ACE DUCT" and equipping with it, it will be possible to reach approximately 8% reduction of fuel consumption.
In recent years, with a background of environmental regulations getting strengthened including GHG emission abatement, an even higher level of energy-saving efforts are required.
We will keep focusing on research and development in order to boost our competitiveness in the field of energy-saving technology.
② Evaluation and Improvement of Ship Performance in Actual Seas
We are taking various actions for development of improved propulsion efficiency and low fuel performance ship in actual seas.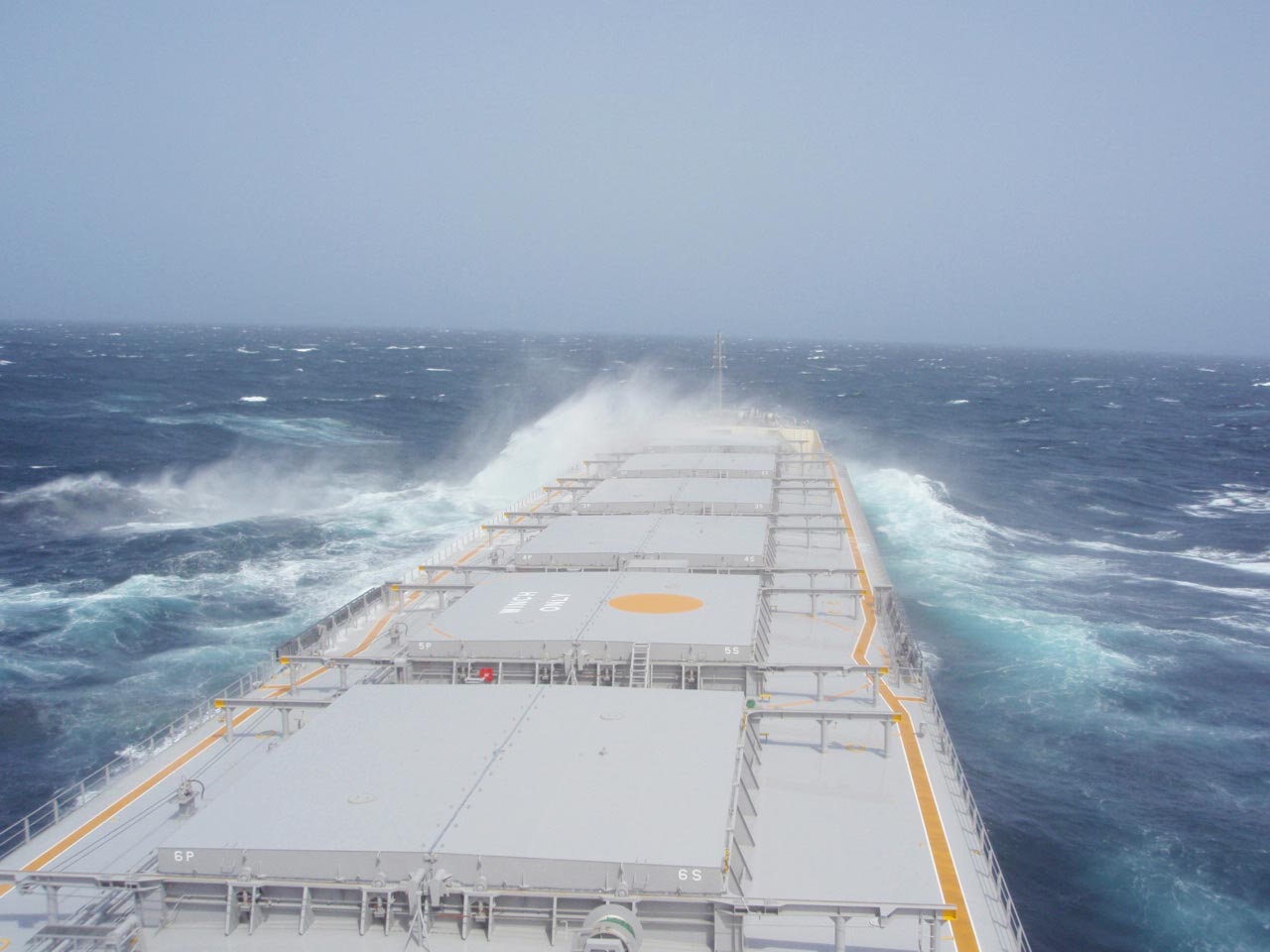 Vessel Navigating in actual seas
The transformation of digital technology is spreading rapidly every part of the world.
We analyze the ship's movement data such as AIS(Automatic Identification System) to develop our new design ships, and the monitoring system is installed on our latest design ships to accumulate their data.
By analyzing big data, we not only try to understand the ship's propulsion performance at the actual sea, but also feedback them to the hull form development of Next-generation Ship.
We think that there are various possibilities for application big data, and we will continue to expand the scope of utilization.
③ LNG fueled ship
We have obtained Approval in Principle(AiP)from ClassNK for the design of a LNG fueled new Wood Chip Carrier.
The vessel can improve the Energy Efficiency Design Index(EEDI)by more than 40%, and we are confident that the design will contribute to achieving IMO Strategy on reduction of GHG emissions from ships, setting out a vision to reduce the total annual GHG emissions by at least 50% by 2050 compared to 2008.
We will exercise outstanding technological capabilities and project execution capabilities that are both outstanding in caliber and integrity, in its effort to keep in step with the continuing changes of the times and to deliver products that win recognition not only from its customers but also for environmental friendliness.
④ Development and manufacturing of FGSS (Fuel Gas Supply System)
We have developed FGSS for LNG fueled vessels making use of extensive knowledge and long experience of LPG tank and obtained "Approval in Principle(AiP)"from ClassNK and ABS. And the first –made product has already manufactured and delivered to the Owner. FGSS is expected to develop greatly in order to be used for various kind of ships. We will continue development of FGSS and contribute to achieving low-carbon society.
Obtain AiP from Classification Societies
Image of FGSS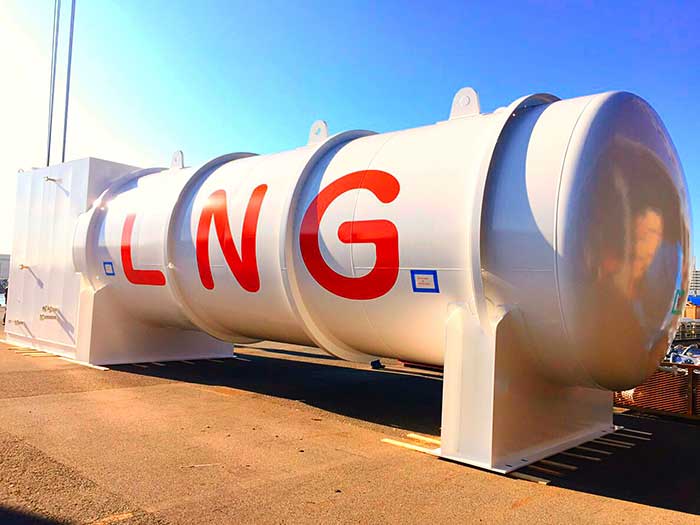 LNG Storage tank delivered
FGSS on board a vessel
Utilization of CO2
There is the idea of utilizing CO2 from industrial plant and it can prevent from increasing CO2 in the atmosphere. We will contribute to achieve utilization of CO2 through marine transportation.
⑤ Taking part in "Ship Carbon Recycling Working Group" of Japan's of Carbon Capture & Reuse Study Group
We can get carbon recycled methane by reacting hydrogen with CO2 which is captured from industrial plant. If we use it as fuel, actual emission of CO2 is considered as zero. However, there is many issues: reduction of CO2 emission at the process of producing fuel, economic efficiency on the market, etc. We are taking part "Ship Carbon Recycling Working Group" of Japan's Carbon Capture & Reuse Study Group and researching about ship transportation of CO2 to solve these issues.
Underground Storage of CO2
If CO2 from industrial plant is captured and injected into the ground, the amount of CO2 in the atmosphere will decrease. This concept and technology are called "CCS(Carbon Capture and Storage)". We will contribute to achieve CCS by developing technology of CO2 ship transport.
⑥ Development of CO2 carrier
If we store CO2 in underground, we have to transport the liquefied CO2 and inject it into underground.
We have obtained Approval in Principle(AiP)from ClassNK for the design of "CO2 carrier(Injection Facility Ready)". This vessel has CO2 tanks and secures the space for CO2 injection system, so this vessel can be added CO2 injection system later. We will continue development of CO2 carrier to meet the demand of CO2 transportation in the future.
[CO2 carrier(Injection Facility Ready)]
[CO2 Injection Ship]